i wasn't going to post this one so soon, but i will. its name was frijoles con amor and it was my first fixie.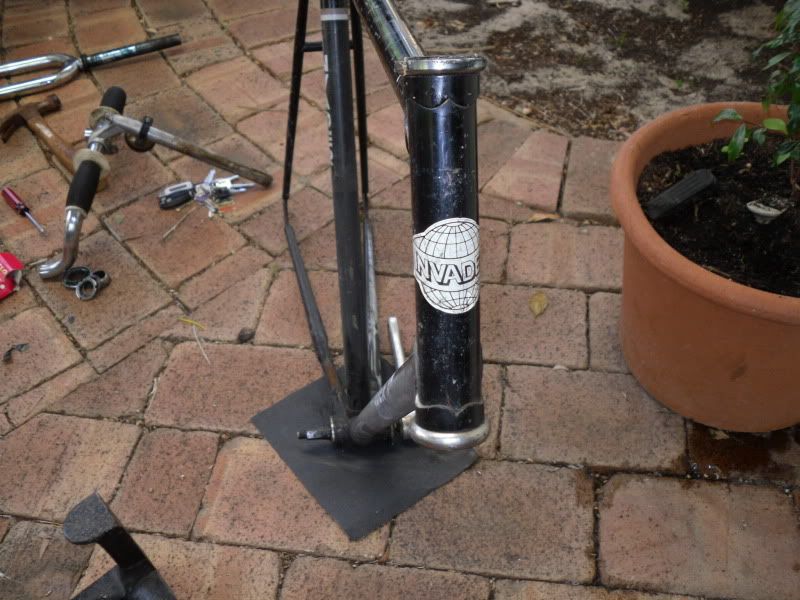 i bought frijoles complete but it needed alot of work. it was a speedwell invader, a little rough but i saw potential. i completely stripped it and got it ready for paint, layed on some flat black and initially i handpainted the lugs white. i replaced the seat, stem and put on bar tape. i stripped the wheels and took them to get sandblasted and powdercoated white, they were pretty rough and rusty. the powdercoating came out ok, nothing too flash i learnt not to get whole wheels powdercoated from that experience. i put it back together but had trouble getting the chainline straight so i took it over to my friend george who is very clued on when it comes to bikes, and in general he's a nice bloke so he helped me out. rear axle was bent so we replaced it, rebuilt the bearings and redished the wheel so it was spot on, chucked on some track nuts and then changed over the chainring to a more suitable ratio. george also rebuilt the rear rim with some chrome spoke nipples for me.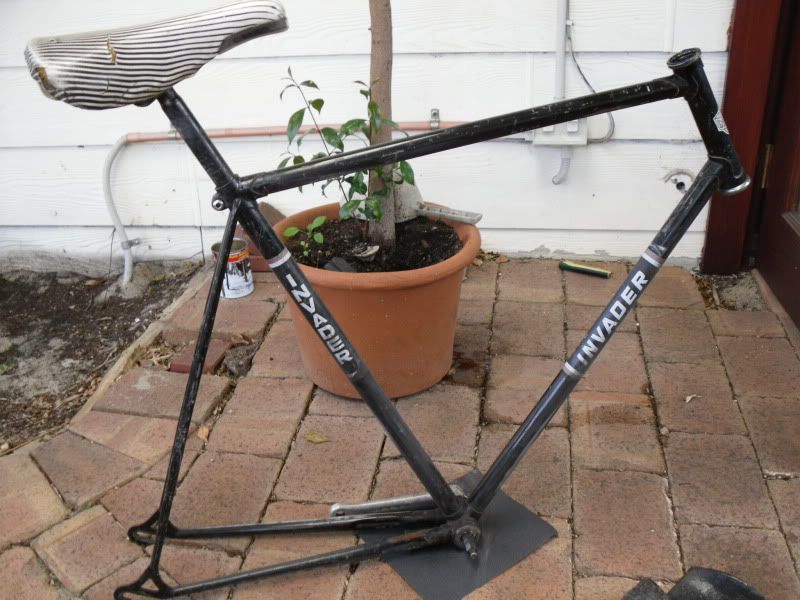 anyways, it came out pretty decent in the end, it was a good bike to learn on & i learnt alot from george in regard to building them properly. anyway i wanted to build a better one using a track frame and 700c's so i sold it.
while scrounging on ebay last night, i found it up for sale. exactly the same but a white chain. the guy is claiming that he built it from ground up. i dont know why, but when it comes to cars, bikes & bicycles people lie like fuck on ebay.
heres a quote directly from his ebay ad:
"Hi,Up for auction is a Fixie that I have built from the ground up. The frame had the decals removed so I am not entirely sure what it is. I have painted it black (OK job) and painted the rims white (not a professional job :). It is a fixed gear (not a single speed, so Beware).""This was a fun project. I am sad to see it go, but I have way too many bikes cluttering up the house."
here's a pic from his ebay ad:
in the end it doesnt really matter that he's selling it, but at least dont take the credit. jerkface.
tommorow i'll post a story about the chopper that now lives in fremantle.